Welcome to The 4th Annual MTGCardsmith Artful August!!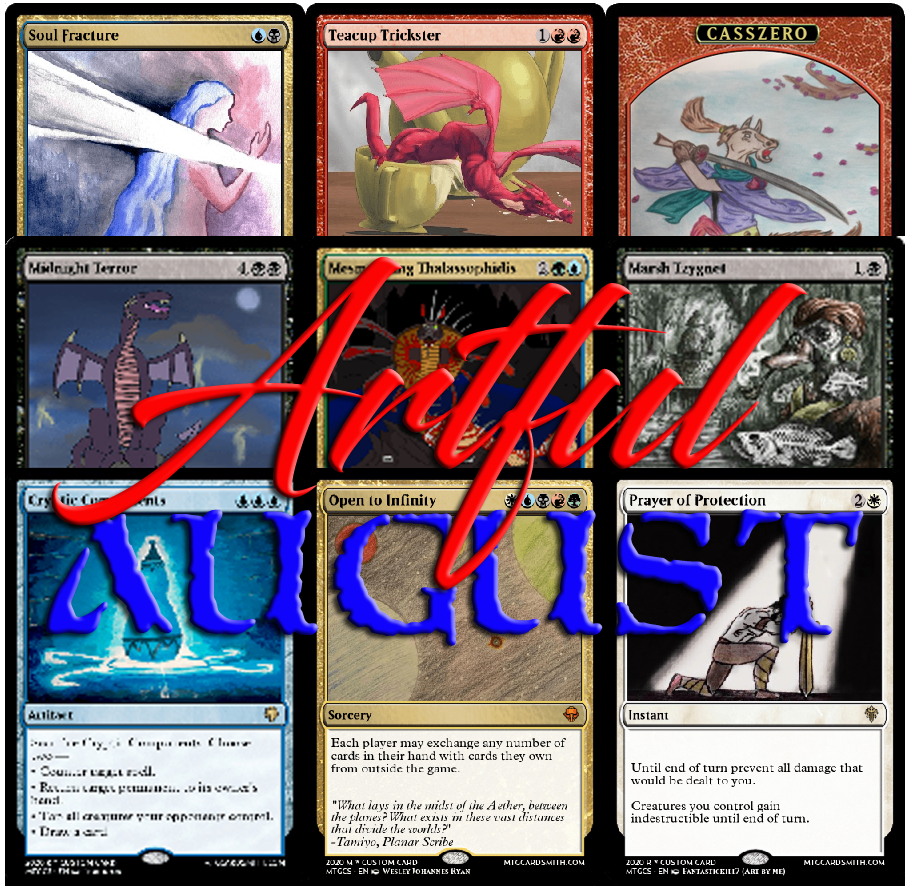 Artful August is BACK! Just in time to get you out of your doldrums!
Just like the previous three Artful August Challenges, we're looking for your Original Custom Artwork Cards to help us celebrate the month of August! Show us what you've created for this years challenge! Last year we added more prizes to give you more opportunities to win, and that hasn't changed! And just like we have in the past, we're going to dedicate the Featured Space to Custom Art cards and Featured Cardsmiths!
Where do you enter your Artful August submissions? Just click the image below and you'll be whisked away to a world where dreams come true!

Featured Cardsmiths

Who better to feature this month than one of our resident artists, crawdadswelcome! Not only does he make wonderful art, he makes some pretty good cards as well. We've picked out a few that we think you'll like, so please check them out and slather them with favorites!

Our second Cardsmith for August is TheDukeOfPork. We love to see Cardsmiths who show passion and growth from their humble beginnings, all throughout their Cardsmith career, and TheDukeOfPork is one of those creators! We think you'll love these five cards from TheDukeOfPork as much as we do, and we're looking forward to seeing these gather a lot of new favorites!
Each month we're excited to highlight just a couple of Cardsmiths that have helped make MTGCardsmith the best interactive online Card Creator. We hope you'll take some time to check out their creations!